The Lake District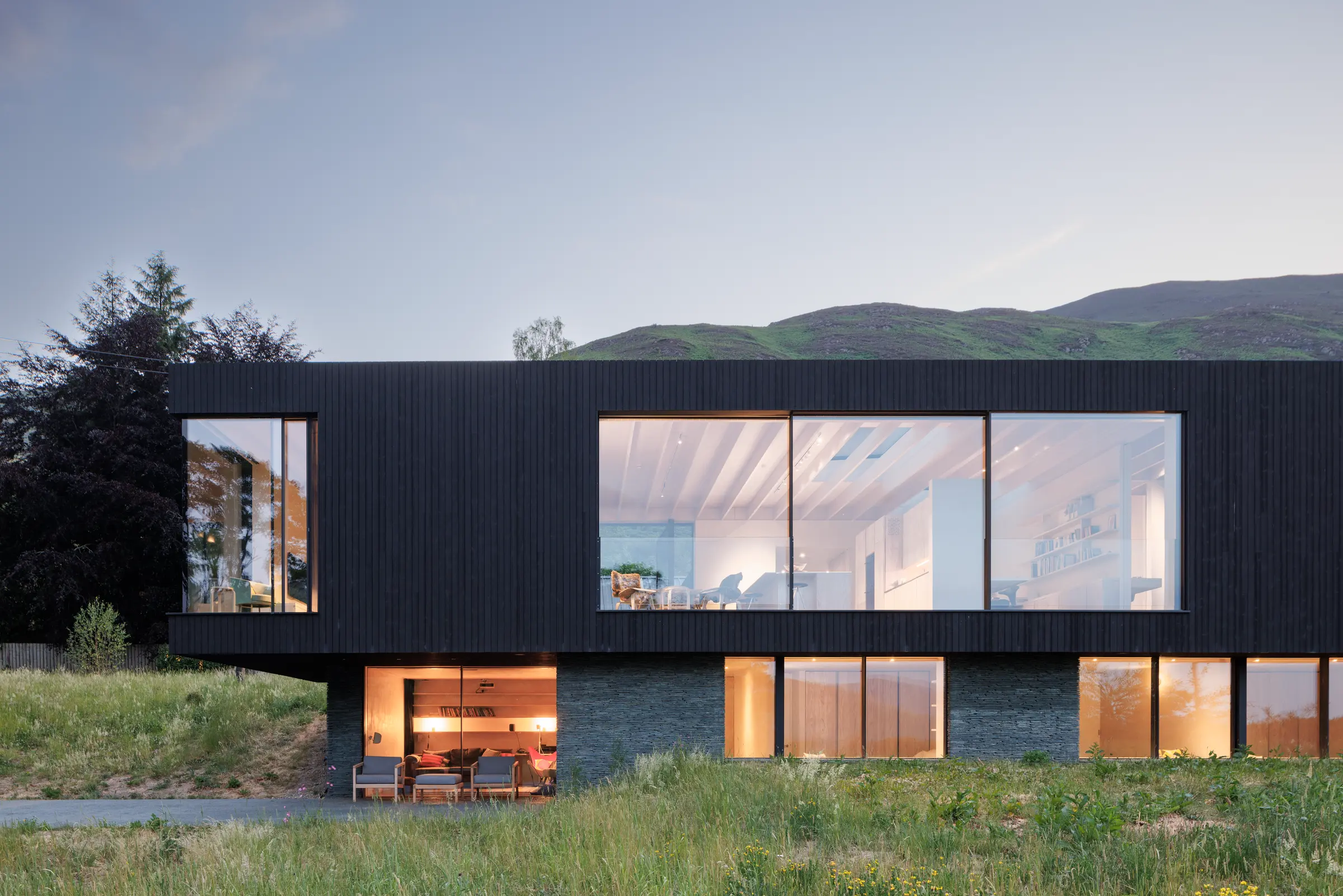 The house sits on the site of a former farm on the side of one of the northern valleys of English Lake District. As well as being a National Park, the Lake District is also a UNESCO World Heritage Site, so planning is amongst the most tightly controlled in the country. The ambition was to create a contemporary family home which sat discretely in its surroundings and didn't draw attention to itself, whilst making the most of the spectacular views which surround it on all sides.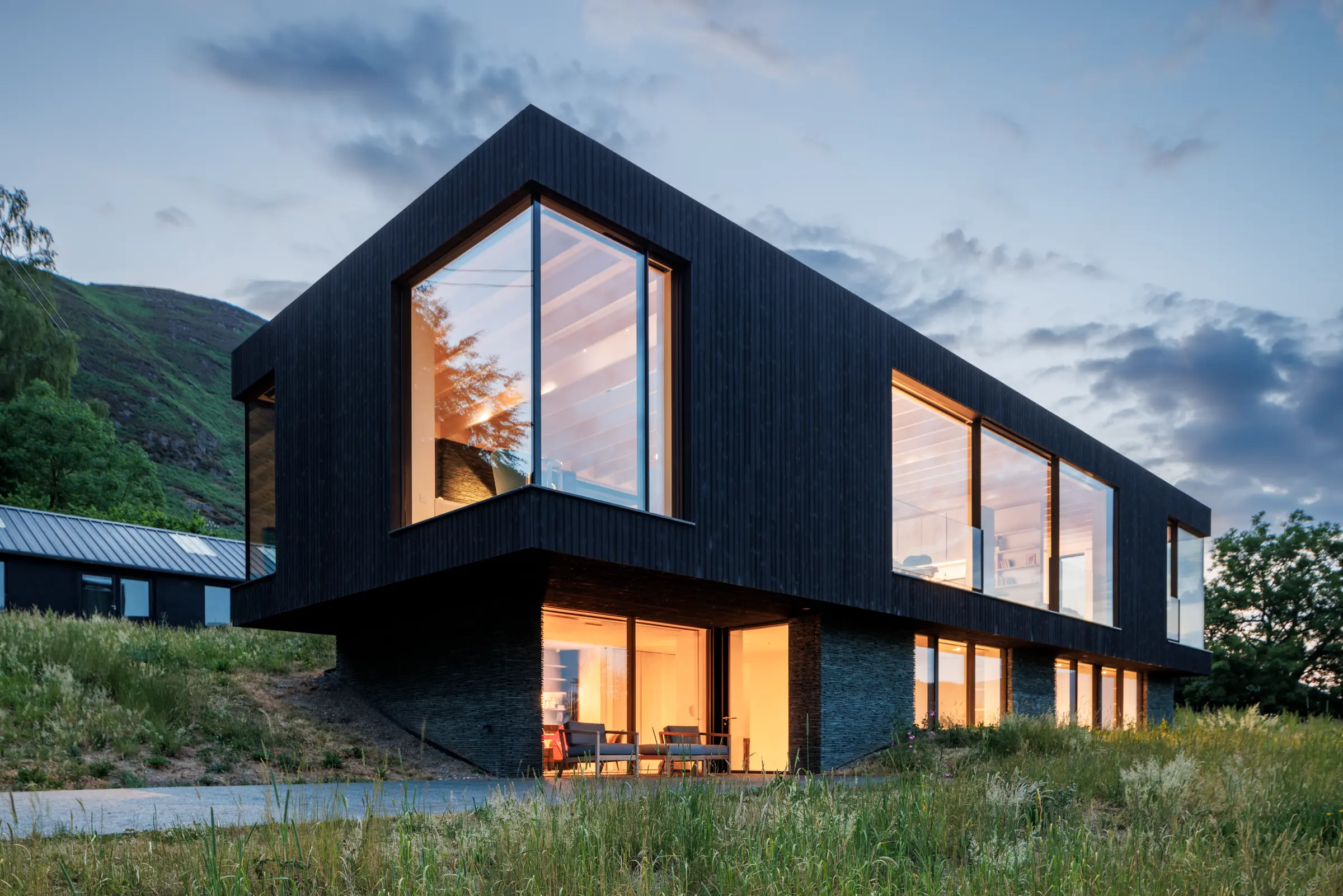 The building is built into the slope of the site and reads as single storey from the nearby valley road. The main living and utility spaces and master bedroom sit at the upper ground floor level in two blocks at right angles, whilst three bedrooms sit beneath on the lower ground floor, partially buried to desk level so that they look out across the surrounding meadow.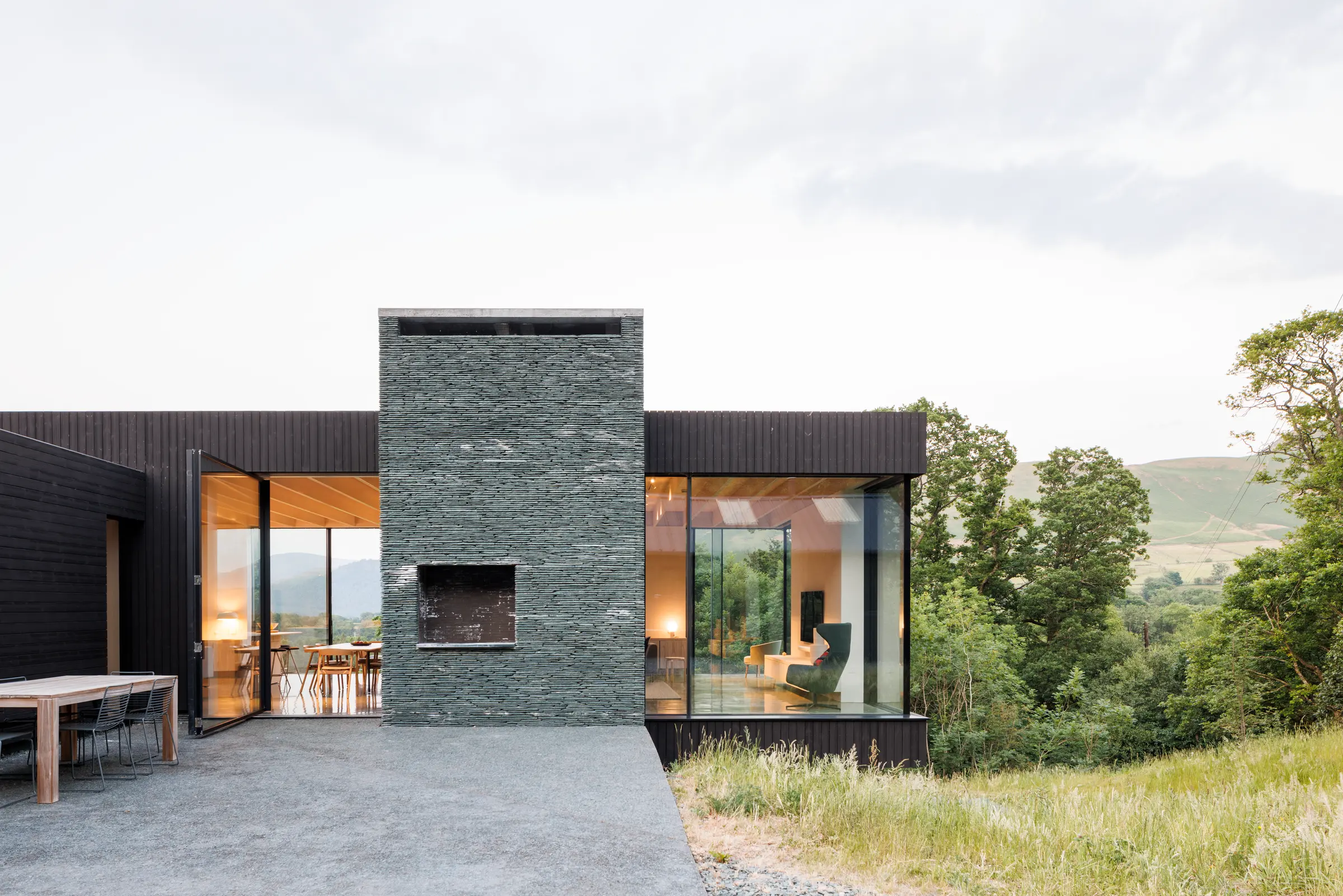 An old masonry former piggery building was kept, and it is connected to the new building by a covered canopy and entrance area. The lower ground floor is a concrete box, with a timber box forming the upper ground level, formed from prefabricated panels and components. The concrete construction, and the careful manipulation of the topography allowed the building to dramatically cantilever at the south east corner, creating a covered terrace.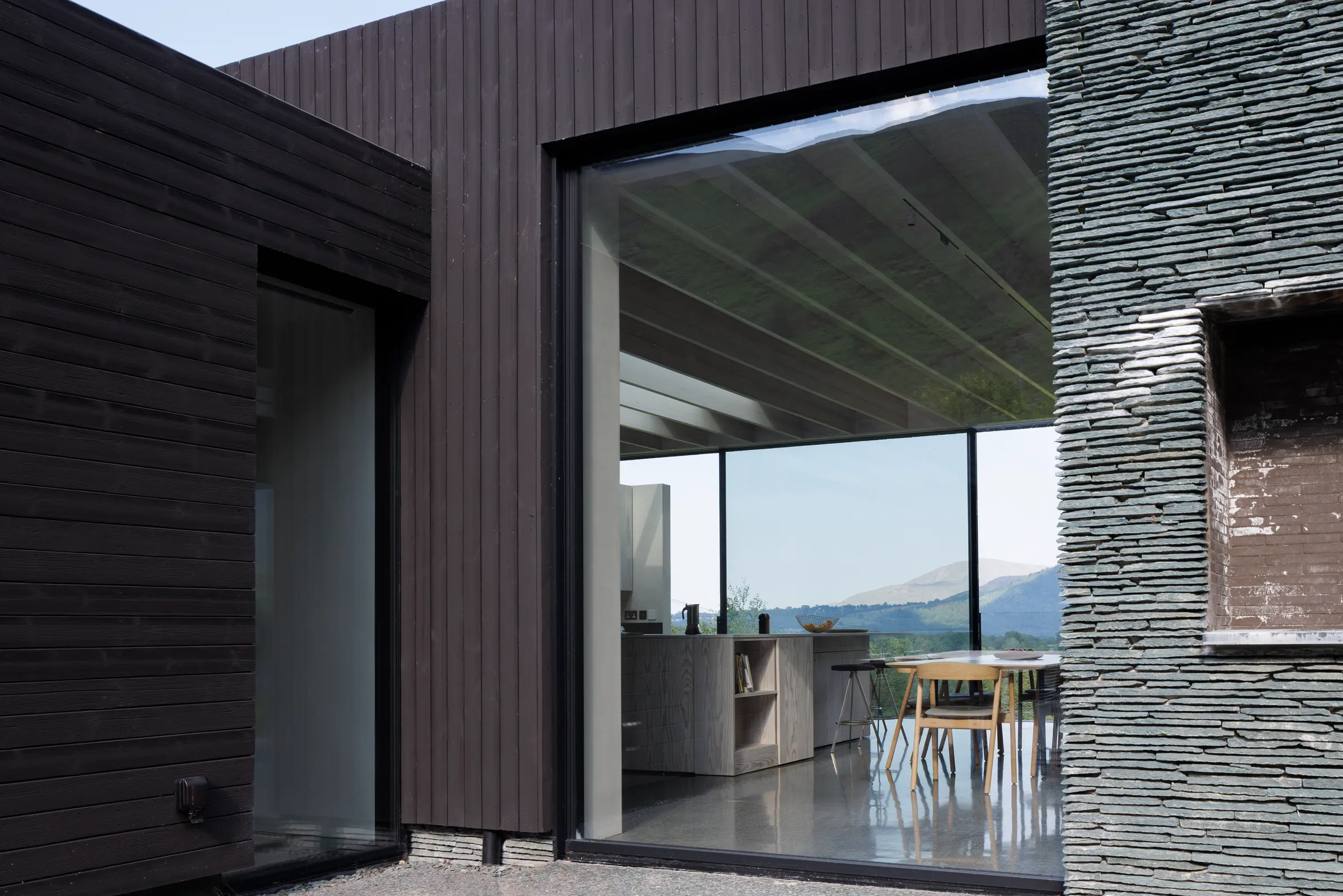 High strength Baubuche laminated timber beams were used to form the exposed roof structure, spanning 7m with no visible connections and supporting a birch ply roof deck above. A Baubuche ring beam runs around the entire main building at roof level, visible internally. This is designed to cantilever at the corners which are then glazed with mullion-free joints. It also spans across the 9m glazed opening to the main space.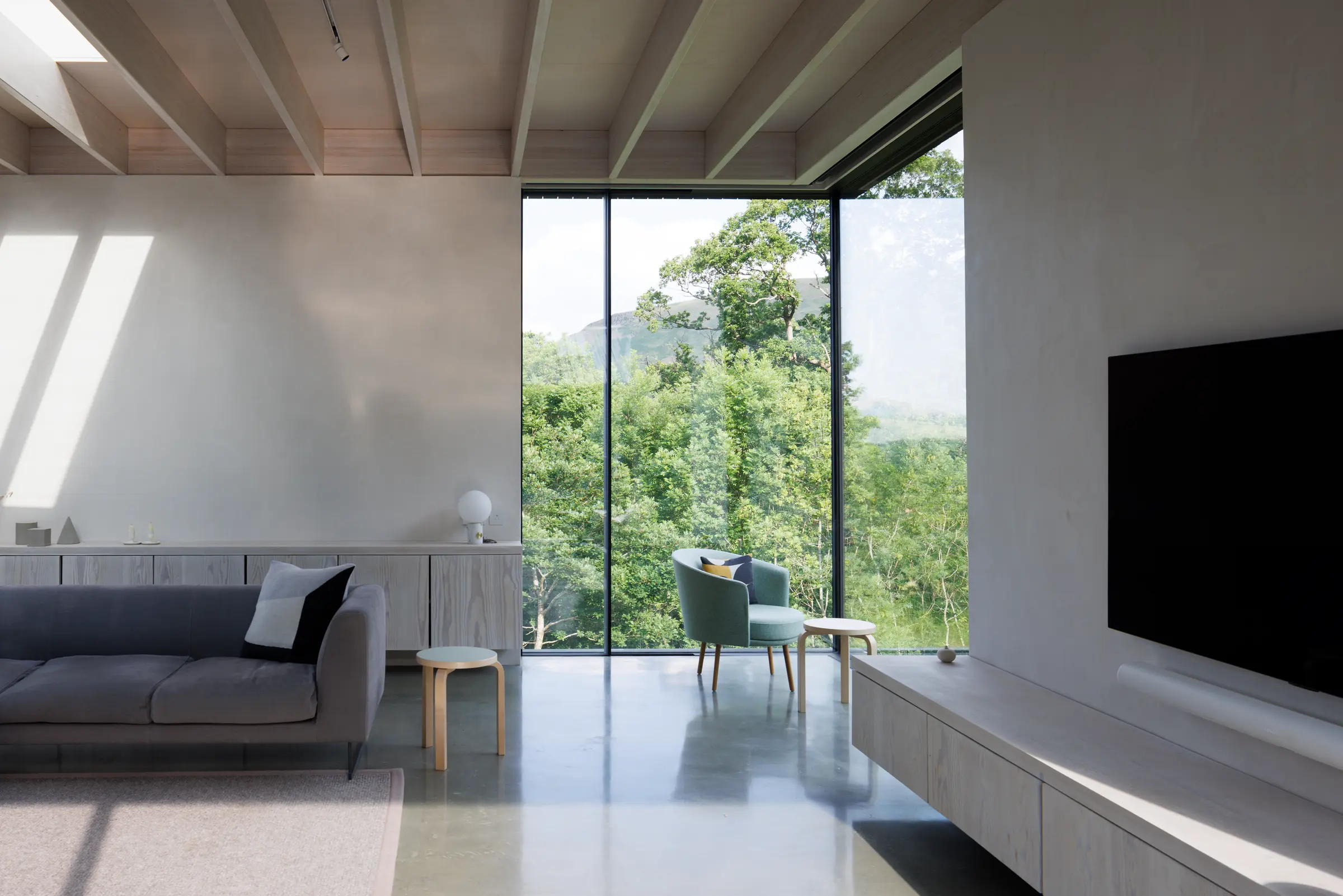 Glazing throughout is triple glazed, low iron glass by Sky-Frame, to be highly airtight and highly insulating, whilst maintaining very clear views to the sky and landscape beyond. The panels are 3m tall to the main spaces and a combination of fixed, sliding and pivot doors are used. The upper ground floor timber structure is clad in a black stained thermopine rainscreen.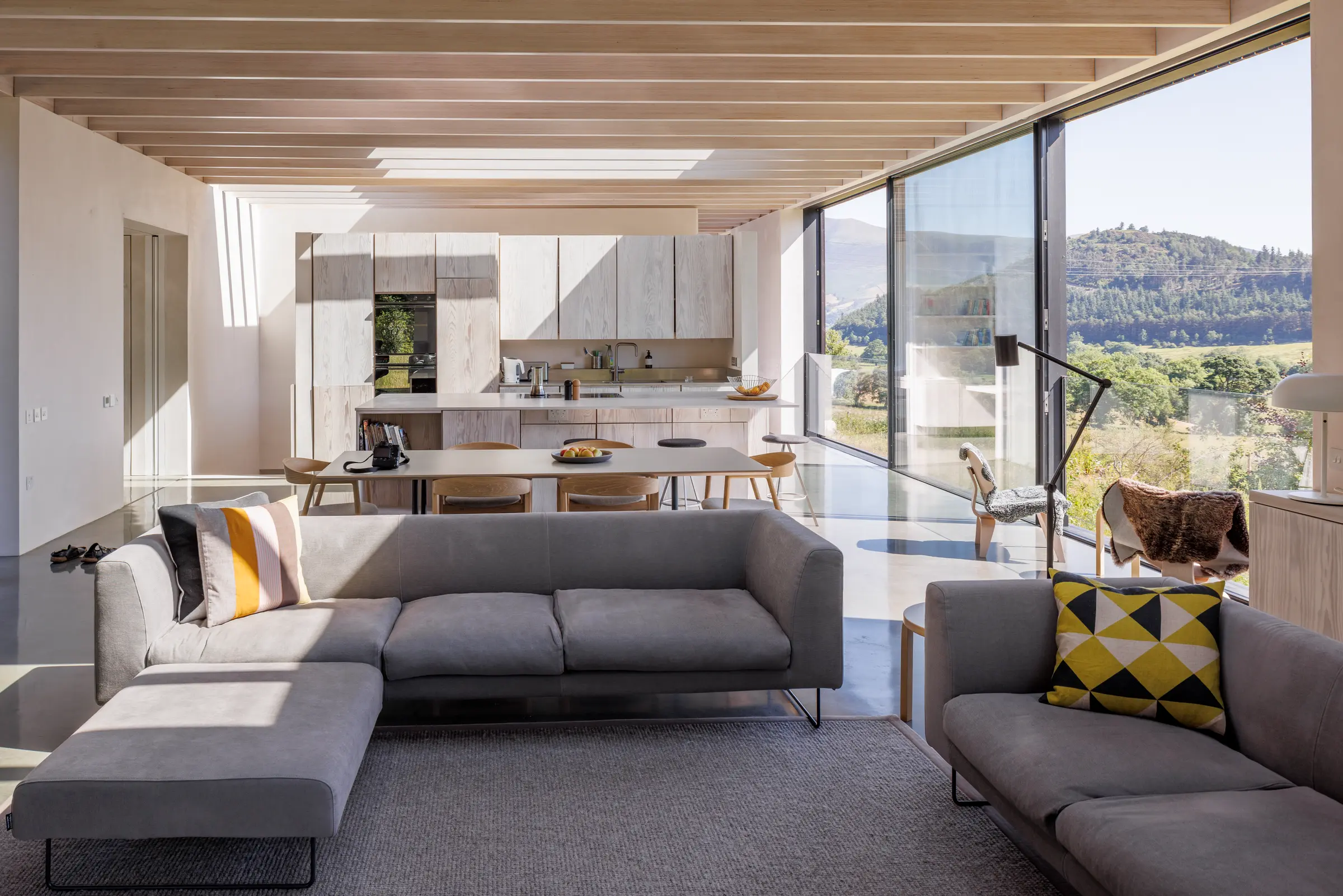 The parts of the concrete box which appear above ground, and a prominent chimney, are clad in blue-green Honister slate, from the last working underground slate mine in England nearby. It is laid in thin 'knapped' horizontal beds, which gives an exquisite rough texture. It is at once both contemporary and geologically ancient, as well as grounding the building in a very typical local vernacular material, used in an unusual way. Slate offcuts were crushed to form aggregate, which is exposed on the surface of the black concrete external terrace slabs. Internal floors are cast in slate green coloured polished concrete, with underfloor heating provided by a ground source heat pump.